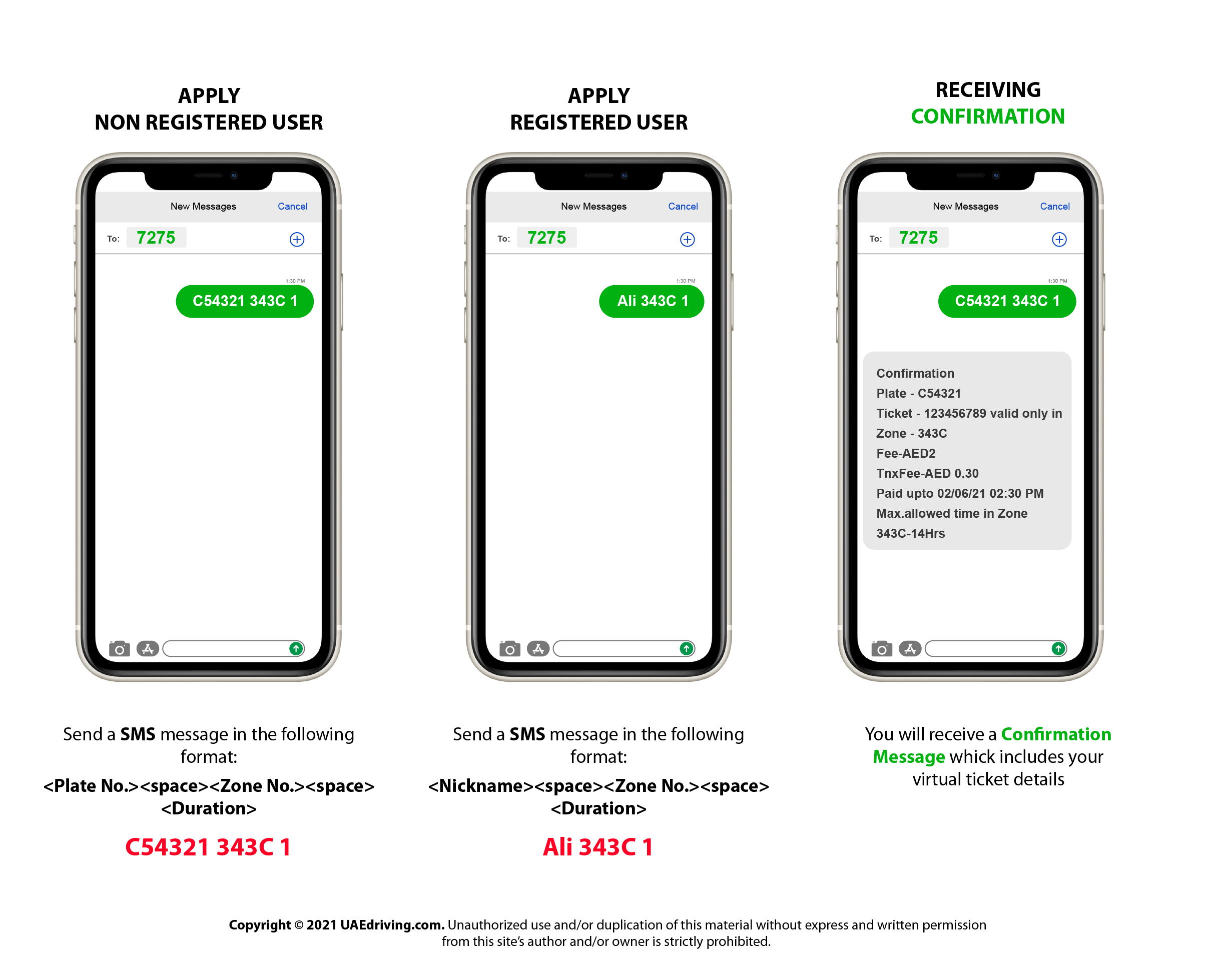 Dubai is known for its Road infrastructure and transportation system, and that's undeniable. One thing that catches one's eye is the parking system layout, which helps control traffic and vehicle congestion. The parking fee is segregated according to each parking lot based on the area and the period of use of the parking space. Any violation of not paying the parking fee or not extending the parking period will result in severe fines. But on the other hand, there are days such as weekends and public holidays when parking is free.
As we all know, Dubai goes big when it comes to sustainability, especially solar power. Unlike other parking meters, the ones in Dubai are solar-powered, with a solar panel cell fitted on each parking meter roof. There is also another sustainable option of not printing the receipt but rather paying the parking fee digitally. This not only saves paper but also helps us save time running back and forth between the parking meter and your vehicle and placing the parking fee receipt on the dashboard right under the windshield.
But if you've completely phased out to a digital lifestyle, the Road and Transportation Authority (RTA) has good news for you. Now you can pay your parking in Dubai through SMS. It is called mParking, an e-service offered by the RTA to pay for your parking ticket through your phone's convenience.
The first step is to create a message. There is a specific format as to how the SMS needs to be sent:
Let us give you an example of how your SMS should look like once you're done:
C54321 343C 1
Wherein "C54321" is your plate number, "343C" in the zone, and the "1" is the duration of the parking ticket validity.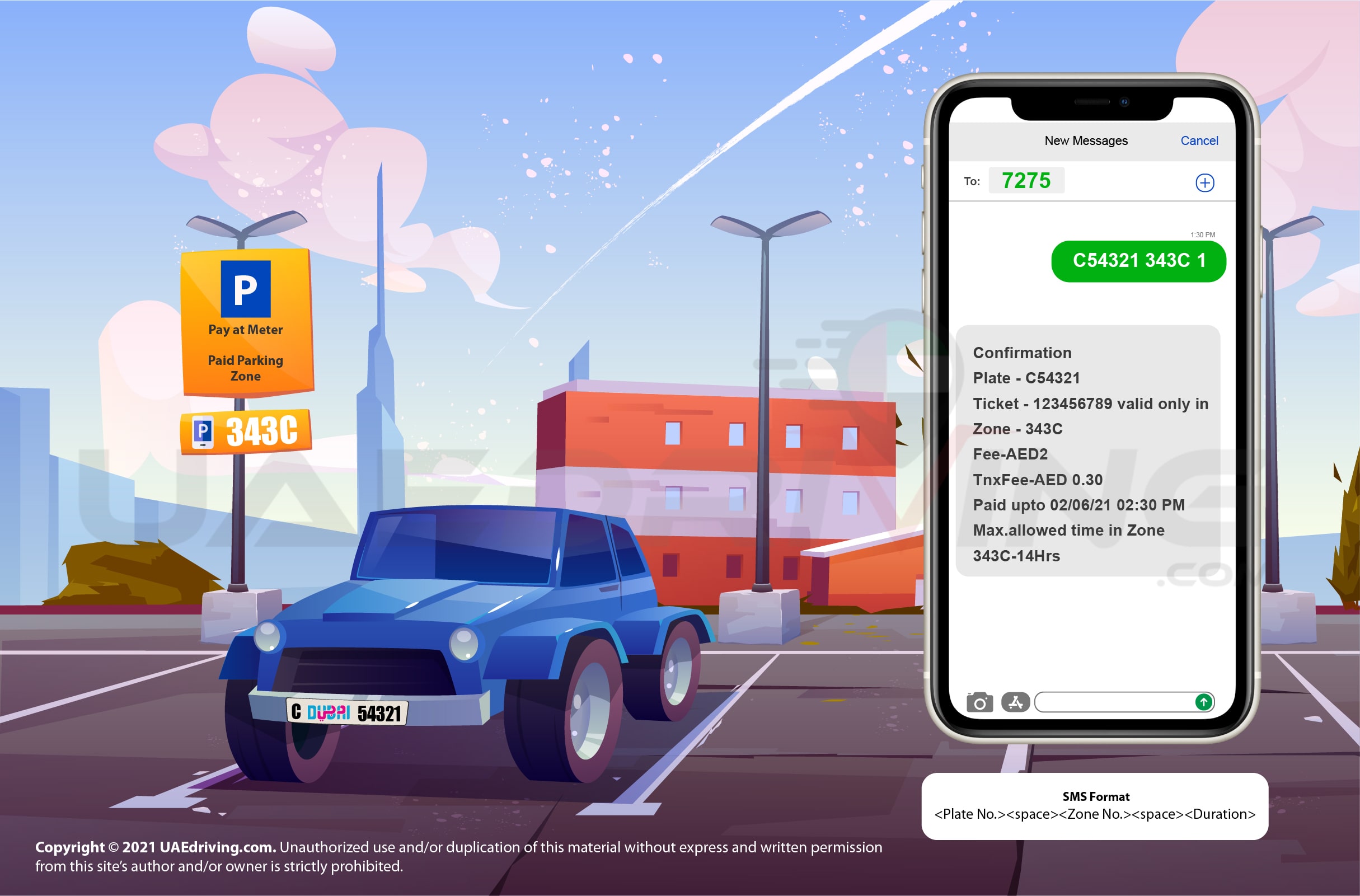 The fee for the parking ticket changes to the zone, so always keep that in mind. You can identify the parking zone with the help of the orange paid-parking sign placed by the footpath. Another aspect to keep in mind is when you happen to be parking in zone A, you can also opt for a parking ticket with a duration of 30 minutes where you can write the duration part of your SMS as ½, .5, .50, 0.5, 0.50, 30,30min, 30mins, 30minute, and 30minutes. For example:
C54321 343A 0.5
But then again, this applies to zone A only.
For vehicles that are not registered in Dubai, the format is a bit different wherein the prefix of the Emirate or the country code must be mentioned:
For example, SMS format for Abu Dhabi Plate: AUH14 54321 343A 1 SMS format for Sharjah Plate: SHJ2 54321 343A 1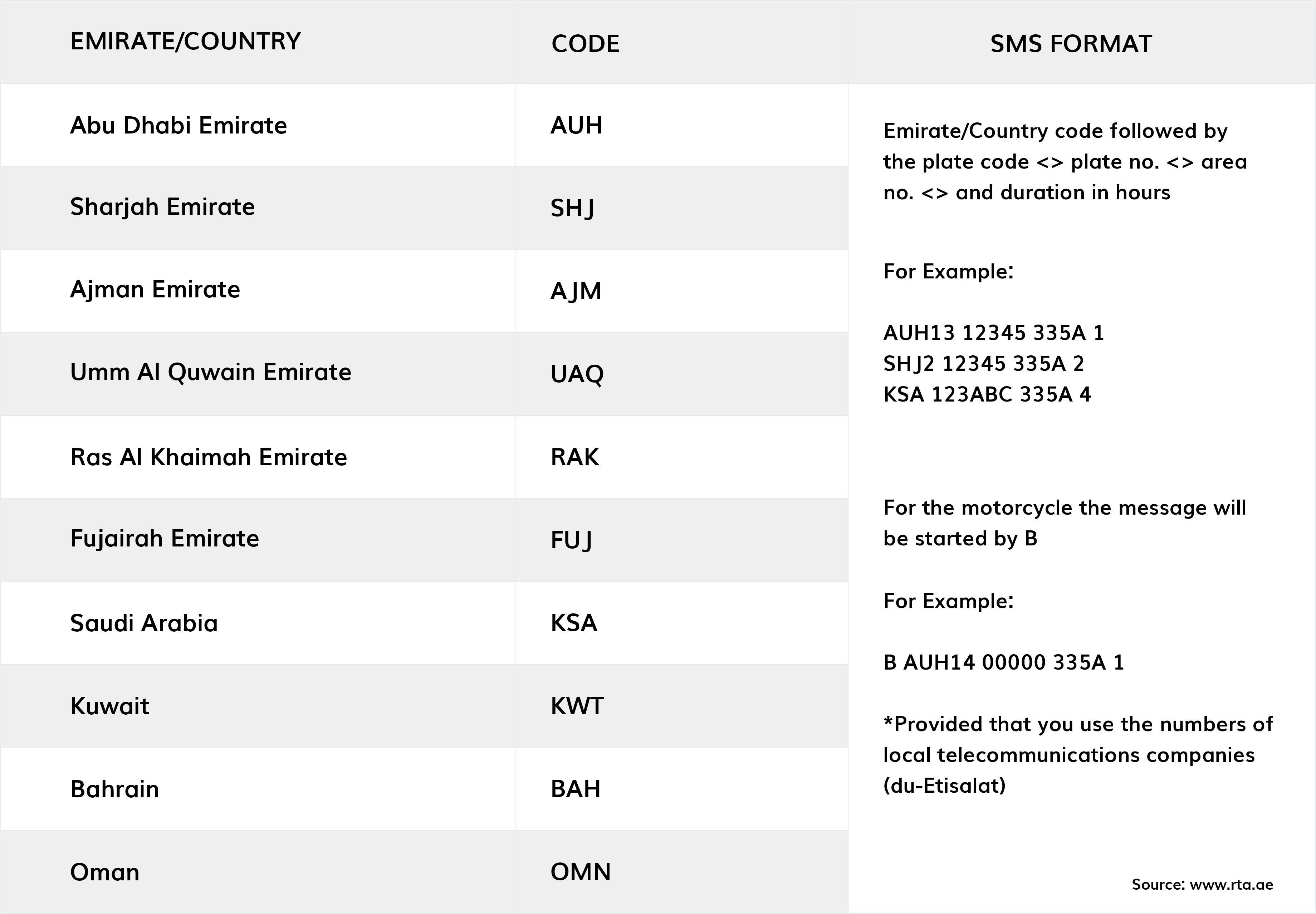 Once your message has been drafted carefully, you can send the SMS to 7275, the official parking number where the Dubai parking fee is paid through SMS. Shortly after the message is sent, you will receive a confirmation code stating if the transaction has been successful or not, and that depends on whether you have got sufficient talk-time or SMS balance on your phone.
Another great feature of mParking is that you will get a reminder 10 minutes before your parking ticket expiry. You can always extend your parking ticket's validity by replying to the text message with "Y," This will automatically extend the parking ticket for the same time frame. To change the duration of the parking ticket, a new SMS should be drafted and sent.
If you ride a motorbike, you can also be using the e-services of mParking with the same format with a prefix "B" at the beginning of it, for example: B AUH14 12345 335A 1
Or
The parking fee's cost will be deducted according to the parking zone and the parking ticket's duration. In addition to that, a fee of 0.30 fils will be deducted as SMS charges. If you'd like to avoid the SMS charges, you can avail the inbuilt parking system in RTA's smart application. For that, you'll be required to download the RTA Dubai App, and you can recharge your account through nol card, mPay, or ePay. This app is useful for the payment of parking tickets but also detection of parking plots and records of past transactions. Using the app will also help earn loyalty points, which can be used as a balance added to nol cards and discounts on e-Vouchers for a wide range of cafes and restaurants around Dubai and other forms of entertainment shopping outlets.
And hence paying for your parking ticket doesn't get easier than that, Habibi. For more information or queries regarding the mParking, kindly contact the RTA on 800-9090, and they should be able to help you through.