Road tripping is without a doubt the best part of having your own car. The open road allows you the freedom to visit many of the region's best kept secrets. So if you're looking for a road less travelled- or indeed a road trip less taken- look no further than the hidden jewel that is Oman! Although the thought of crossing the border over from the UAE can seem dauting, the drive is definitely worth it. Located along the south-eastern coast of the Arabian Peninsula, different regions of Oman mix spectacular natural beauty and wildlife with cityscapes that blend the modern with the historic. Depending on the route you take, this drive can offer you the chance to play with dolphins in the waters of Musandam, explore ancient forts in Sohar, marvel at the palaces of Muscat and more. This road trip also allows you to choose between leisurely taking your own sweet time or making it a much shorter. No matter which you chose, you are certainly bound for surprises galore!
Regions of Oman
Musandam Peninsula: Known for clear bays, dolphins and mountainous surroundings

Muscat: The country's capital, known for mosques, palaces and museums

Sohar and Northern Coast: Known for sandy beaches, ancient forts and scattered islands

East Coast: Famous for migratory turtles on the region's beaches and beautiful wadis

Nizwa and Inland Areas: Known for the stunning Hajar mountain range, which include ancient forts

Al Wusta: The location of the Arabian Oryx Reserve, the area also features Oman's signature beaches and adjacent caves

Dhofar-Salalah: Monsoons flood the wadis in this region bordering Yemen, which is also famous for the local frankincense trees

PRO TIP
To make the best out of your trip, plan a long weekend itinerary. This will give you plenty of time to take in the sights of each distinct location you pass. Try not to plan your schedule too tight and decide early on where you're going to be staying each night.
When to Visit Oman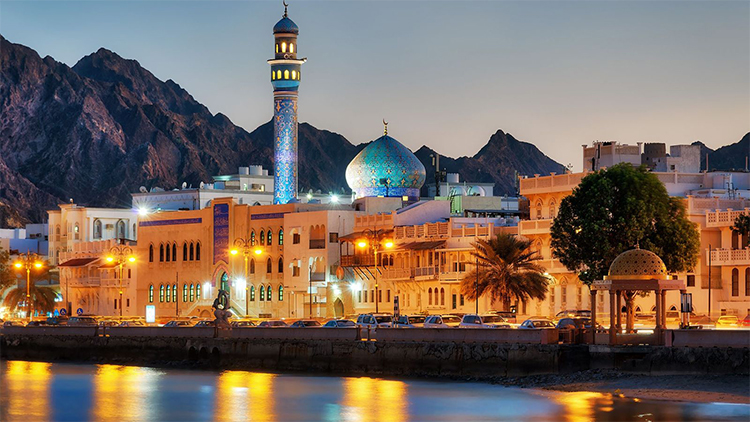 Like most countries in the Middle East, Oman's weather ranges from mild to blazing hot. There are two main seasons:
Winter: October to April This is Oman's main tourist season, as temperatures cool to about 15 to 20 degrees Celsius. With temperatures being much more bearable than in summer, the busiest months are February and March. If you plan to visit then, it is advisable to book your hotel rooms in advance.
Summer: May to September Even though hotel prices are much cheaper during this off season, visitors must be warned that the desert heat can rise above 40 degrees Celsius. This greatly affects your ability to experience the country during the day; you could probably only enjoy the shopping in Muscat at night. You could also maybe travel to the region of Salalah during this time, as the rea is much milder than the rest of the country during this time. However, even Salalah is notoriously humid during the summer.
Here are a few tips to help you plan the right time to visit Oman:
Check the Ramadan dates for the year. Since Oman is a Muslim country, all restaurants and places to eat (apart from international hotels) will be closed for most of the day.
If you wish to experience the regions cultural and musical events, The Muscat Festival is held in February
Roses bloom at Jebel Al Akhdar and its surrounding areas, marking the start of the rose season in April.
How to Get There: Routes & Border Crossings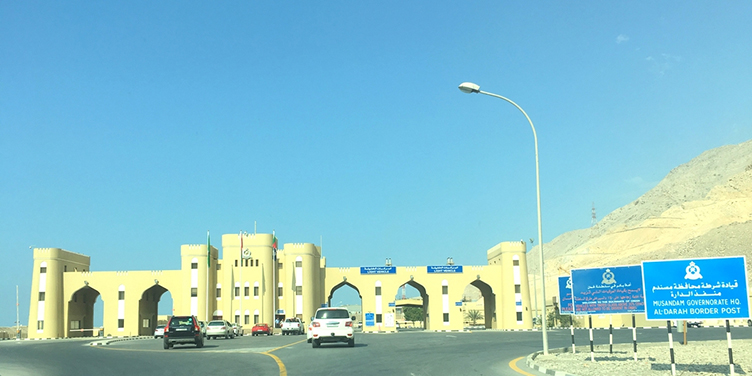 There are many routes you could take, depending on the border crossing you decide to use (more on that below), but the easiest route is the one that lead to the capital city of Muscat. If you are coming from Dubai, take the Dubai-Hatta road (E66) followed by Emirates Road (E611), then the Sharjah- Kalba road (E102), all the way to the Hatta border of Al Wajajah. From there you get onto Route 1 and follow the coastal road to Muscat.
This is the route most often taken by tourists and road trippers, as it comprises entirely of smooth asphalt roads that allow riders to cut through the stunning valleys and wadis of Hatta offering the most scenic route on the UAE side of the drive. The Omani leg of the journey is equally beautiful, as after it passes through the Hajar Mountains, drivers are treated to cool sea breezes and gorgeous beach views along the region's sandy coast. As you approach Muscat, the scenes change once more to incorporate the cityscapes of Muscat. If you can resist the temptation to stop your vehicle often to drink in the views, this route should get you to Muscat in about 5 hours. The main border crossings open to all tourists and non-GCC citizens from Dubai are:
Wadi Hatta Al Wajajah: This is the border crossing closest to Dubai and Sharjah. Do keep in mind to programme Hatta Fort Hotel into your GPS or Google Maps if you decide to use this crossing, as the E44 route (which shows up if you directly programme the border crossing) is not an option for tourists.
Kathm al Shukhla, Al Ain: As this is a popular truck route, it can actually be the quieter, easy route for cars, although it may not offer the same views as Hatta. This route also offers a more direct route to Muscat, although it does cause you to miss out on the fjord-like bays of Oman's Musandam region.
Meyzad Hafeet, Al Ain: This is the easiest option for those travellers starting out from Abu Dhabi rather than Dubai. It is also ideal for those returning from Muscat to the UAE via the Nizwa region, known for its rocky landscape and ancient forts.

PRO TIP
Make sure you allot a good amount of extra time to cross the border. Depending on your visa status, the season you choose to take your trip and the checkpoint you use, the process can take from 10 minutes to upwards of an hour.
What You'll Need: Documents & Fees
While crossing from the UAE to Oman and back, keeping these documents handy for both you and your fellow travellers will save you time and hassle:
Passport with at least six months validity
Emirates ID, if you are a UAE resident. Any other valid proof of identity, such as a national identity card or driving license from your own country is also acceptable if you are not a UAE resident.
AED 35 departure tax when leaving UAE

Note that this fee need only be paid when crossing from the UAE to Oman; you will not need to pay this fee when returning to the UAE from Oman

Visa to Oman

You can apply for the visa at the immigration counters at the border crossing if you wish to obtain visas on arrival. A 10-day visa costs AED 50 (OMR 5) per person, while a 30-day visa costs AED 190 (OMR 20) each.
If you are a GCC resident, it is more advisable to apply for an e-visa, which costs AED 50 and takes four days to process. The process is quite simple and will save you from being stuck in long queues at the border. Apply here.
Apart from these, you will need a few documents regarding your vehicle regardless of whether it is rented or privately owned. If you plan to take your rented vehicle across the border, do let your rental company know. Either way, this is what you will need:
Proof of ownership of your vehicle

If you plan to make the trip using a vehicle that you don't own, like a rental car, you will need a No-Objection Certificate from the car's registered owner or rental company.

Insurance that covers your vehicle in both Oman and the UAE

If your insurance doesn't explicitly cover Oman as well, you have to purchase insurance from a broker at the border.
If you are using a rented vehicle, your car rental agency will usually provide you with this insurance on request.

PRO TIP
It is preferable to use an offline GPS. Since your access to data can get finnicky at the border, Google Maps or similar apps might prove unreliable. Get a satellite GPS if your car doesn't already have one built in; if you are using a rented vehicle, your rental company will usually provide one for you on request for a nominal fee.
How to Enter and Exit the Border Crossings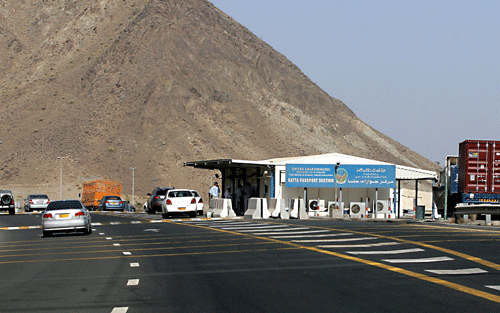 The Dubai-Hatta Border: Exit
Once you reach this border, the procedure is as follows:
Hand over your passport and the 35-dirham departure tax in cash
Have your passport exit stamped and collect your exit sticker
Drive around 10 minutes or so toward the Oman/Hatta border
If there are any issues- such as passport queries or fines- that cannot be solved from within your car, you will need to go into the adjacent Border Control building.
A common reason for hold-ups is overstay fines, which start to accrue at AED 360 for the first day and AED 100 for every subsequent day from day 39 of your overstay This must be paid in cash at the counter in the corner that says 'BANK'. Once paid, you will receive a sticker saying so and you can proceed to get a Dubai exit stamp on your passport.

PRO TIP
Carry cash with you well before reaching this crossing, as that is how your exit fees and any fines must be paid. Although there is an ATM at this location, carrying cash well beforehand can save you any extra bank fees and time spent in queues.
The Oman-Hatta Border: Exit and Entry
Once you reach the Hatta Border Control building, the procedure is as follows:
Park your vehicle and go into the building.
If you do not have an e-Visa, complete an immigration form and join the immigration queue.
Hand in your e-Visa or immigration form, your passport and your exit sticker from earlier. If you do not have an e-Visa, hand over the additional AED 50 Oman Visa fee, preferably in cash.
Have your passport stamped with the Omani entry or exit stamp as needed.
From here, you can either drive into Oman or out of the UAE respectively.

PRO TIP
There are a few places here to get lunch if you're feeling peckish. They accept both Omani riyals and Emirati dirhams at equal rates, so there is no need to change cash.
The Dubai-Hatta Border: Entry
The procedure to enter the UAE is as follows:
Drive back to the Border crossing and park up
Go inside the Immigration Centre and join the queue
Handover your passport and sticker to get a Dubai Entry Stamp for 30 days
Drive through the new Dubai Customs checkpoint. Though the queues for this process can be longer in the peak seasons, the process itself is farly quick.
Note: If you didn't get the entry and exit stamp for Oman you will be made to return to the Oman-Hatta Border to do so
Driving in Oman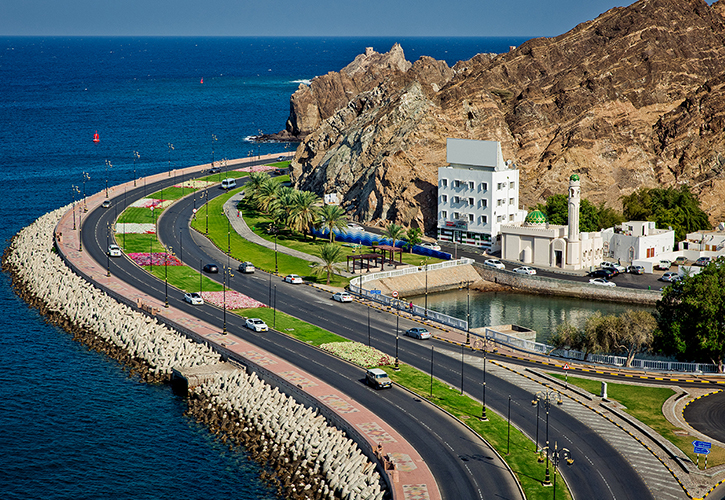 Although the most places can be accessed by a regular two-wheel drive car, it is best to have an SUV or a 4WD to make the most of your Oman road trip. This will allow you to take your vehicle into the mountains for some off-roading, an essential part of the Omani experience. Many tourist spots are also almost exclusively accessible by 4WDs. Some examples of these sites include:
Jabal Akhdar on the Saiq Plateau, where there is a police checkpoint that will actually bar your entry if you're not in a 4WD
At Jebel Shams, only the first 20 kms are paved roads. The last 10 kms are winding dirt paths, which are easier to access in a 4WD.

PRO TIP
If you plan to dive into the desert, lower your tire pressure. Deflating them helps expand the surface area of the tire as you drive, improving the traction and keeping you from getting stuck in the sands.
Driving in Oman is very similar to driving in the UAE. Just like the UAE, drivers in Oman drive on the right side of the road, which are smooth, easy to navigate and feature clear signage in both Arabic and English. Here are a few additional tips to make your drive in Oman as smooth as possible:
Be extra cautious when driving outside Muscat. There may be a risk of hitting wandering camels or goats on the road outside the main city.
Be aware of any rain advisories issued. Though rain is so rare in Oman, flash flooding is common when it does. Try to avoid heading into the mountains, entering wadis or driving off road.
Stock up on water and snacks. If you find yourself in a situation where you are stranded, this will help you take care of yourself until help arrives. Remember to keep yourself hydrated in Oman's hot and dry climate.
Make sure to follow the posted speed limit. Although it might seem pretty obvious, its easy to lose track of your speed when driving through Oman's long straight highways for hours. Oman strictly enforces its speeding laws.
Call the Royal Oman Police (9999) if you are involved in any road altercations. Make sure you have your Minor Road Traffic Accident insurance form in your car in these cases. If you are renting your vehicle, your car rental company is responsible for keeping this form in your car.

PRO TIP
While driving in Oman, pay specific attention to areas where you need to make a turn or an exit. Exits on long highways are often spaced very far apart and missing a turn may mean that you'll need to drive at lest half an hour until the next exit to turn around.
Dubai-Musandam Road Trip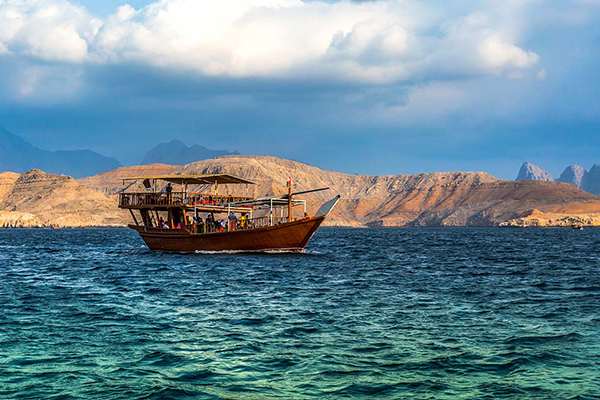 Although it is separated by the UAE, Musandam is an enclave of Oman that sits at the very horn of the Arabian Peninsula. The main town of Khasab is home to an ancient fort and the surrounding mountains offer many opportunities for off-roading, as well as cultural experiences in old villages.
However, this region is most famous for its fjord-like khors surrounded by the craggy cliffs of the Hajar Mountains. Here you can go on traditional dhow cruises, watch the waters' native dolphins, snorkel and camp on the adjacent islands and more.
How to Reach Musandam from Dubai
The roads from Dubai to Musandam are all paved, so this trip can easily be made in a 2WD, although an SUV is recommended if you plan to go off-roading. Take the Emirates Road towards Ras Al Khaimah. The route you will be following is'Dubai - Sharjah - Ras Al Khaimah.'At Ras Al Khaimah, drive on to the Cement Factory road which has road signs that direct you to Oman.' You will come across plenty of dry scrublands on this trip, interspersed with sand dunes and a few lush date palm oases. It takes a little over 2 hours to reach Musandam from Dubai, making it an ideal weekend getaway.

PRO TIP
If you're planning a road trip to Musandam during the winter, make sure to carry a few jackets and shawls, as it does tend to get quite chilly and windy. If you're going in the summer, carry plenty of water with you, as temperatures can soar above 45 degrees Celsius, and the area might lack safe drinking water.
Must-Visits: Oman
The best destinations in Oman all allude to the country's stunning natural beauty and amazing wildlife. These areas are best explored by 4WD, as the roads there often feature dirt roads and rough terrain. Some of the main attractions in Oman are:
1. Wadi Bani Khalid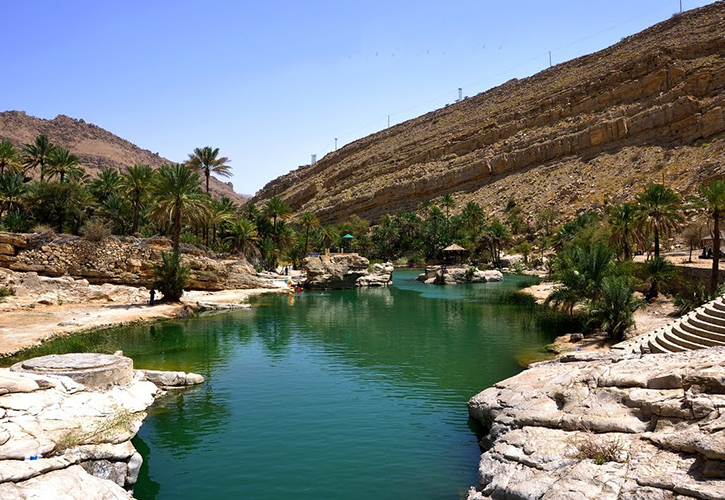 Located in the lowlands of the Hajar Mountains about 3 hours from Muscat, Wadi Bani Khalid is one of the best-known wadis, or gorges, in Oman. Just the drive to the wadi is spectacular; the route winds through colourful rock formations- green with copper oxide and rust-red with iron ore- as well as an ayn, or a natural spring, which is accessible by some steps by the side of the road. Wadi Bani Khalid comprises a long series of plantations and villages that lie in or close to the wadi floor. All year round, water flows from a natural spring in the upper reaches of the wadi, creating many stunning turquoise natural swimming pools. This water also supports the abundant vegetation of this area, making it a truly beautiful spot to both hike or swim in.

PRO TIP
If you plan to swim in the wadi, dress modestly. Oman is a Muslim country, so women should avoid bikinis and men should avoid Speedos r similar swimwear. A pair of shorts and a t-shirt is the best swimwear for both genders.
2. Bimmah Sinkhole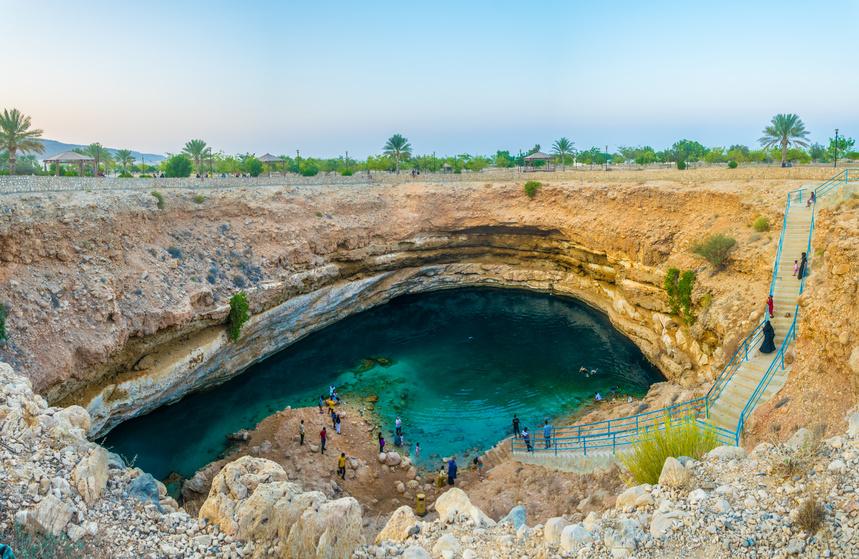 Structurally a sinkhole, Bimmah is an extremely deep depression filled with brackish blue-green waters. It is located close to the Al Sharqiya region, just off the highway towards Sur, a few kilometres before Tiwi. The sinkhole was formed by a collapse of the surface layer due to dissolution of the underlying limestone.'However, locals used to believe this sinkhole in the shape of a water'well was created by a meteorite,'hence the Arabic Hawwiyat Najm, which means 'the deep well of the (falling) star'. Bimmah Sinkhole ranges in depth from only a few feet to over 300+ feet in the deepest part. You could choose to either wade in the shallower parts or go diving deep into the underwater caves of the sinkhole, known locally as Bayt Al Afreet, or House of the Demon. To preserve the sinkhole, it is surrounded by the pleasant Hawiyat Najm Park, along with a stairway leading down to the hole.
3. Wadi Shab
Offering stunning vistas of mountains opening onto a pea-green lake and desert greenery, Wadi Shab is popular with tourists and locals alike. Located in the Al Sharqiyah region, about 3 hours from Muscat, the main attraction of the wadi is a water fall in a cave. These many valleys and depressions in this area offer a variety of pools to swim in. While swimming in the lower pools is forbidden (they are a source of drinking water), there is an opportunity for discreet swimming in the upper reaches of the wadi, where you can duck into a partially submerged cave. The wadi is also a popular hiking spot, rewarding even the most reluctant hiker with turquoise pools, a busy'falaj'(irrigation channel), waterfalls and terraced plantations; kingfishers add glorious splashes of colour and year-round trusses of pink oleander bloom by the water's edge.
Must-Visits: Muscat
Oman's capital city of Muscat beautifully combines tradition and modernity, housing a fourth of the entire country's population. This large metropolitan area historically served as an important trading port between the east and the west and can easily be explored in simple 2WD vehicles. Some of its most notable tourist sites include:
1. Muttrah Corniche and Al Riyam Park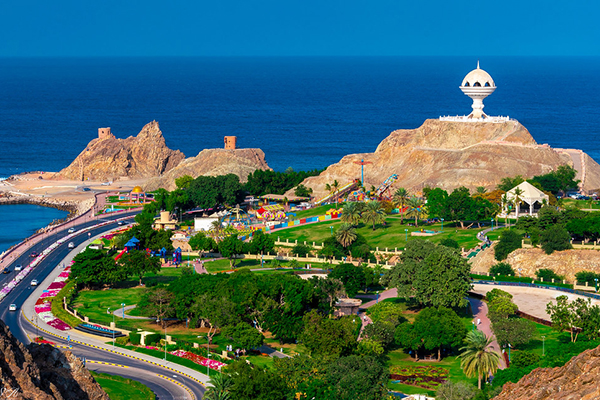 Muttrah Corniche features attractive latticed buildings and mosques and is surrounded by mountains on one side and the sea on the other. The harbour here is also home to the ruler of Oman's dhow, visiting cruise ships and many naval vessels. Combined with the area's pavements, lights and fountains, this is an ideal spot for an evening stroll or a bike ride. Al Riyam Park is located along the Corniche, and boasts lush greenery, fine views of the harbour and giant ornamental incense burner. There are also weekend funfairs and a few hiking paths, which are popular among locals and tourists alike.

PRO TIP
If you are looking to save some time and take in as many of the sights as you can, it is advisable to make a day of visiting not just these parks, but also the nearby Muttrah Souq.
2. Muttrah Souq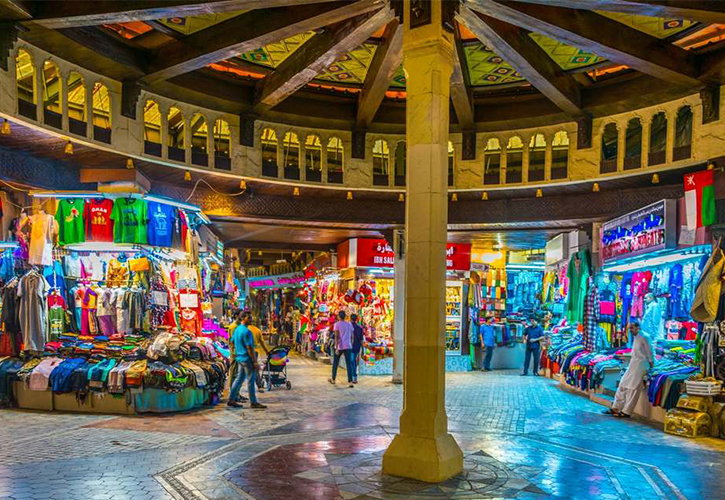 Mutrah Souq is located on the banks of the Mutrah Corniche and is quite reminiscent of Bur Dubai's Old Souq. While the chaotic nature of these open markets housed under a modern timber roof may seem familiar, many of the items sold here cannot be found anywhere else. Distinctive items for sale in the souq include antique'mandoo'(wedding chests) with brand-new thumbtacks brought down from the Hajar Mountains; rope-twined muskets that saw action in the Dhofar wars of the 1970s; an alleyway of sandals that complete the traditional Omani men's dress; and another of aluminium serving dishes for the traditional Omani'shuwa'(marinated lamb cooked in an underground oven).

PRO TIP
Bargaining is expected, so this is a great place to sharpen your haggling skills! Although most stores accept cards, you can negotiate better prices if you have cash on hand, ensuring that you'll leave with unique souvenirs that were easy on your wallet.
3. Sultan Qaboos Grand Mosque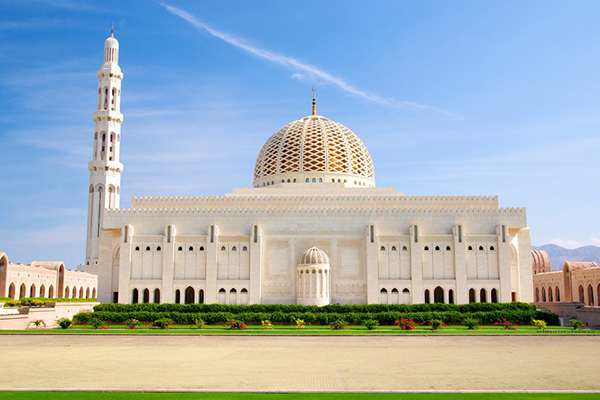 Opened in 2001 after over 6 years of work, this breath-taking piece of Islamic architecture was a gift to the nation by Omani ruler Sultan Qaboos to mark the 30th anniversary of his reign. Made from 300,000 tonnes of Indian sandstone, the mosque features a stunning main prayer hall, which can accommodate 20,000 worshippers. This hall is also the location of the world's second largest hand-loomed Persian carpet (70m x 60m), which took 600 women four years to weave. Given that this is an active place of worship, visitors are required to dress modestly. Women and girls above the age of 7 are required to cover their hair; an abaya and a scarf can be hired from the mosque for OMR 2.5 and some form of ID as a deposit.

PRO TIP
If you still have some time to kill after your visit to the Mosque, drive by the Royal Opera Hose Muscat. The premier venue for musical arts and cultural events in the country, this contemporary Omani building was also commissioned by Sultan Qaboos in 2001. Take a walk in its landscaped gardens or catch a show- the performances in this famed hall include ballet, opera, jazz and more.
4. Bait Al Zubair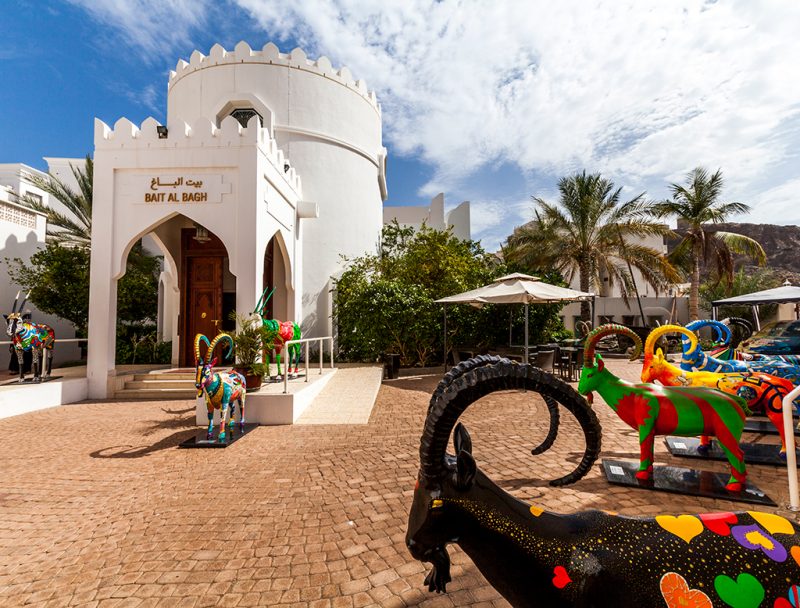 Located in Old Muscat, this much-loved museum has quickly evolved into one of the city's main cultural epicentres, hosting many international exhibitions of contemporary art on its grounds. Beautifully restored from an old traditional residence, the museum displays privately owned exhibits featuring traditional Omani handicrafts, weaponry, furniture, stamps, coins and more. Outside the museum is a full-scale traditional Omani village and souk. There is a nominal entry fee, and there is also a museum caf' and gift shop, which features models of the museums' exhibits and traditional handicrafts among others.
5. Ras Al Jinz Turtle Reserve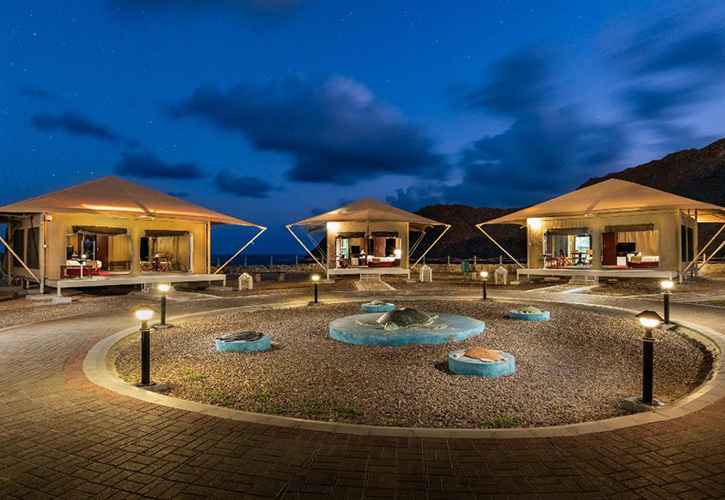 Located in the region of Sur, about 2 hours from Muscat, this area offers you the best chance to spot the year-round sea turtles that rest on the beaches of Oman. Over 20,000 sea turtles a year nest on this sandy beach, a small strip on the easternmost point of the Arabian Peninsula. surrounded by the impressive cliffs of the Peninsula's horn.

PRO TIP
Visit between August and December. During this time, you could even spot turtle hatchlings making their way to the water, as this is the breeding season.
It is best to visit during the night-time, as turtles don't approach the beach during the day. Make sure to book your turtle tour in advance (they start around 9pm), as maximum visitor rules are adhered to quite strictly, allowing only a 100 people to join per night. This area is protected by the government of Oman, and strict penalties are imposed on those who disturb the turtles or their eggs. Though the route offers many chances for off-roading, the Reserve can easily be reached by a simple 2WD. Cars can only be driven up to the paved parking area and are not allowed on the beach itself.